Anybody got some singles?
Anybody with a wad of 1's can see Brandi Hawbaker's A cups close and personal. Tart of the month (by tart I mean C.B.) Brandi Hawbaker has found a new career path to fund her diminishing bankroll.
The thread that introduced Brandi to the NWP community had some incredible foresight with the title
"Crazy Stripper"
. The title was the only correct peek in the future as posters were making excellent reads such as "she seems normal" and Kung Fu'ing some fortune cookie philosophy such as "One tit does not a stripper make." Yeah, good call fellas.
Fast forward to 4 months later the former WPT chip leader is now a current Pole Dancer and yes that is literal. A couple days ago Micon said he got a txt from her saying she is now a "dancer" at the Rhino in Vegas. Later in the thread Brandi came on and said she no showed due to nerves. People actually thought she backed out and didn't think anymore about it until a
trip report from NWP Pro (yeah big suprise) icfishies.
Long winded post, however, the only thing you need to know is she got drunk and decided to go, gave a lapdance to icfishies then suprise suprise bit the ever loving fuck out of him. She declared she "likes to hurt and be hurt"...yeah I shat myself. Oh and he didn't close the deal. We're going to convene at 10pm CST to discuss icfishies man card status.
In other news Aaron "GambleAB" Bartley is now doing Geico commercials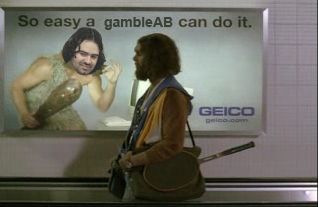 and
98d makes Jennicide's nipples hard.
True story.